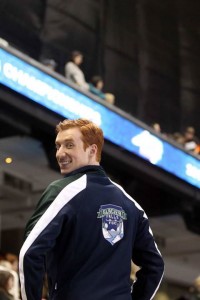 May 4, 2015
2014…In the Asian Calendar, this year is known as the Year of the Rabbit…but, I'd like to tweak that a little…and being that I am Asian yet I am not (don't worry we will get to that in the next blog) I am taking it upon myself to name 2014 The Year of Sean Rabbitt…remember 2 T's please!
Where to begin? Lets begin at the start of 2014. 2014, I am not going to lie, it started out a little rough with a broken shoulder and torn labrum, all just a week before leaving for Nationals. But, it all goes up from there! I promise.
I am guessing you are wondering how I broke my shoulder and tore my labrum? I was doing footwork, caught an edge, and fell…my shoulder dislocated and well that's that. But, surprisingly through the pain I was able to get my shoulder moving enough to get out at Nationals and put on 2 satisfying performances which also put me into a personal best place of 14th! Better than I excepted given the circumstances, that's for sure!
Then came off-season, I rested, let the shoulder get better, escaped surgery (it can be put off until I retire) and then started to prepare for the season that I feel has really changed my career!
Summer came quickly. My programs were set and now all I had to do was train them so that I was back into competition shape! The season started off strong and I felt like I was picking up momentum with each competition. Glacier Falls summer classic was one of my strongest competitions of my career, and I scored a new personal best and felt like I was really going in the right direction. Then, came what I had been waiting for, the pivotal moment in my career. August 5, 2014, two days after the completion of Glacier Falls Summer Classic, I got a call from my coach Tammy Gambill. I was being added to US Figure Skating's International Selection Pool. This was the first step in completing what has been my next major career goal, representing Team USA internationally. Well, baby steps. I was also informed I would be the alternate for three competitions. I know the saying is on cloud 9, but it was more like cloud 1,383,98,234! A week later, I landed my first 3 Axel! I'd say August 2014, Year of the "Sean" Rabbitt was a pretty good month!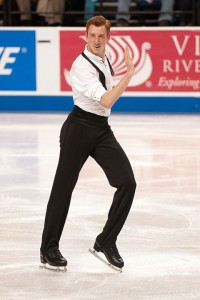 The season went on, and I kept getting some great opportunities and my skating was getting stronger and stronger, picking up momentum with each competition. In October, I was invited to be a guest choreographer for the Los Angeles Ice Theater, which was an exciting moment as well. Then soon after came Pacific Coast Sectionals. At Sectionals, I felt well prepared and even through the nerves, I skated strong and garnered a new personal best of 202 points and finished second overall. Then came the 2015 US Championships(AKA Nationals). I keep saying I felt like I just kept picking up momentum, and it is true I felt like every time I stepped on the ice, every experience I had faced this season all was going in my direction! I always feel most nervous for the short program, that's what sets it all up. I knew if I could just set myself up in a good position and after the SP then the free skate would be a breeze. So, all the training, all the positive experiences I'd faced this year came down to this one 2 minute  50 second short program…and it was everything I had imagined and more! I skated clean, put myself into 11th place, my highest after short yet, and obtained a new personal best. Not only that, but I made it into the second to last warm up and NBC! So then came the free skate. I couldn't wait to get out there and show America what I was capable of! My free skate was strong, I executed everything to the best of my ability, only making two small errors. In the free skate, I also obtained a new personal best and that put me into 12th overall and a new personal best overall score of 211.
2014 was off to a bad start and then changed to become one of my best career seasons ever. Now, 2015 is off to an even better start! It has been an exciting year.
Since Nationals, I have been in shape training and trying to get stronger and stronger. I decided to schedule a vacation in two of my favorite countries; Korea and Japan! Because, remember I am Asian… We shall talk about that in my next blog!